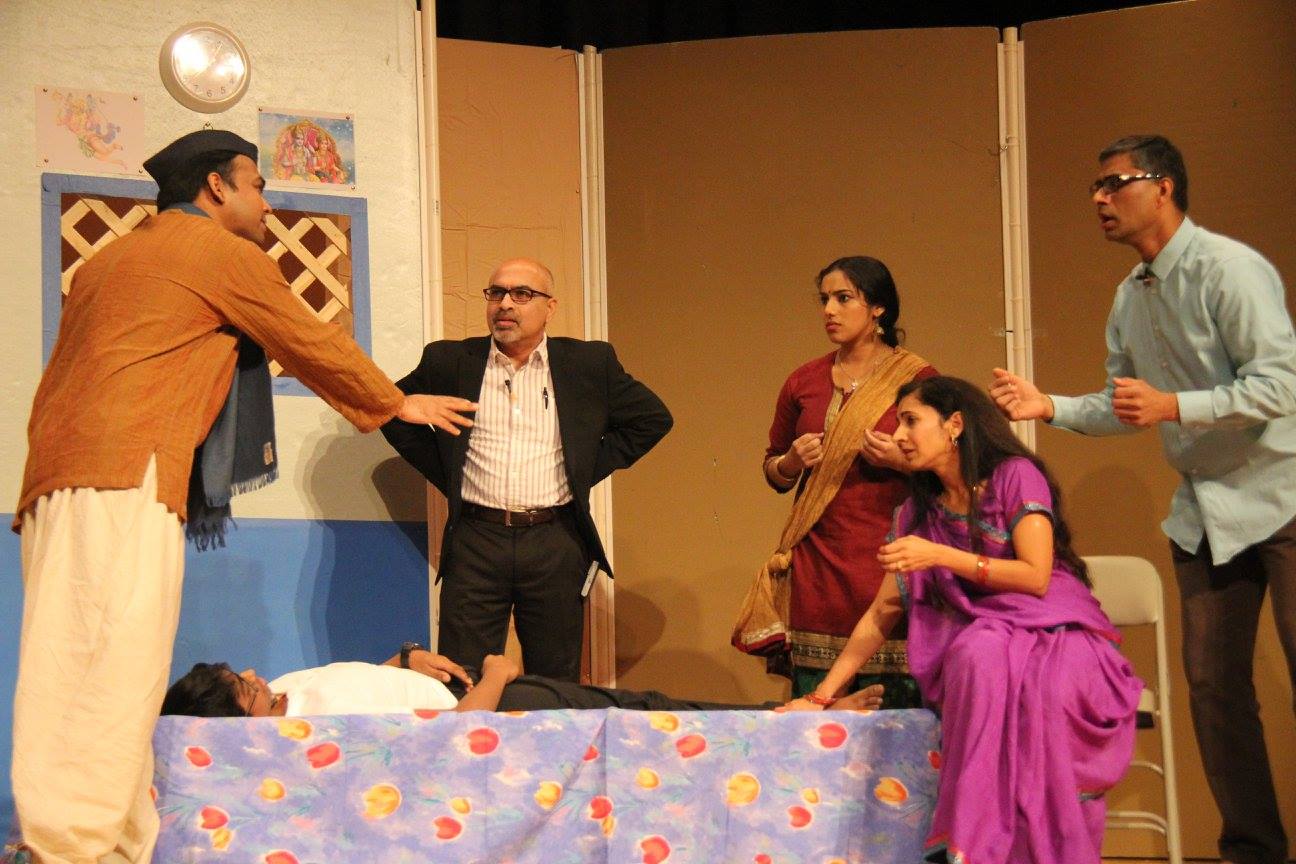 Hindi Manch Sahitya Sammelan 2016
Hindi Manch Does it again! Hindi Manch mesmerizes the packed auditorium of Thoreau School of Concord, Mass. on Sunday December 18, 2016 with its third 'Sahitya Sammelan,' a Literary Sitting on a much larger scale and in a more structured and formal setting. Hindi Manch brings every year, one is its kind event purely based on Hindi/Urdu Literature. This year Hindi/Urdu poetry, two Hindi comedy plays and 3 songs were presented by immensely talented Poets, Actors and Singers from New England Area.
Eight New England Poets Kiran Naath, Mareej Kirmani, Mahmood Alam, Sunayna Kachroo, Maneesh Srivastava, Poppy Awasthi Charnalia, Purvi Shah and Amrit Chopra presented their poetry that touched a variety of topics. From love to human relations, from motherhood to motherland and from senseless killings to child sexual abuse, each poet brought their own unique touch to the Sammlean and left the audience wanting more.
Two Hindi Comedy plays left the audience tickled for rest of the evening, the Play La-ilaj ilaaz was staged by Preetesh Shrivastava, Monisha Prakash, Pranay Khare, Satish Palyam, Mahesh Gadgil, Krithi Nathan, Seema Gupta, and Aryan Narayan, directed by Mahesh Gadgil and Mohan Dali. The Second play 'Grihadasha ki Dasha' was presented by Sanjay Jain, Pratibha Krishnamurthy, Java Joshi, Ajay Jaisingh and a young actor Arth Joshi the play was directed by Anish Khanzode and Mohan Dali.  The songs were performed by Ravi Torvi, Jayashree Shahane, Rajiv Gangurde and Sonal Limbachia. The stage was flawlessly managed by the EmCeee team comprised of Ali Rizvi, Jaya Pande, Smitha Bharadwaj, Raksha Soni, Prithvi Banerjee and Pratibha Shah.
The event was conceptualized by Sahitya Vibhag the literary arm of Hindi Manch. The Key members of the Sahitya Vibhag are: Sudhanshu Mishra, Shubha Chungi, Jaya Pande, Syed Ali Rizvi and Sanjay Jain.  The Hindi Manch Sahitya Sammelan caters to the literary taste of the lovers of Hindi, Urdu, Bhojpuri, Awadhi, Brij Bhasha and associated dialects, said Preetesh Shrivastata, President, Hindi Manch. He thanked all the volunteers and supporters and further expressed how community has supported all the events as a family and helped not only procuring also passing on the heritage of Hindi Culture to the next generation.
Hindi Manch is a non-profit organization whose aim is to bring people who know or want to know Hindi/Urdu and related dialects together by cultural, social and educational programs and activities and to propagate Hindi language and culture in the future generations. This organization is not related to any caste, religion, region or area. This organization welcomes people from all religion, region and languages. To buy tickets please log on to www.hindimanch.org or send an Email at hindimanchsahityavibhag@gmail.com  or call at 617-620-1804, 781-413-4189 or  973-220-2713.
 Past Press Releases –
http://www.lokvani.com/lokvani/article.php?article_id=11665
http://www.lokvani.com/lokvani/article.php?article_id=10779
http://indianewengland.com/2016/12/two-hindi-comedy-plays-local-poets-writers-theatre-personalities-feature-hindi-manch-sahitya-sammelan-dec-18/
http://indianewengland.com/event/back-popular-demand-hindi-manch-chitrahaar/